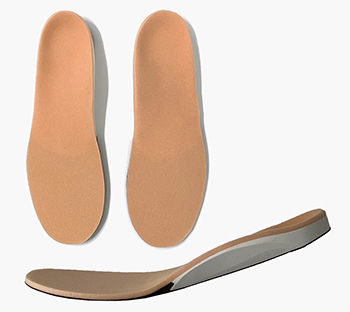 USAGE: For patients who may only be able to tolerate a mild amount of control for pronation and supination. This device achieves comfort and relief of ulcerative pressure usually seen with the diabetic patient.
Material: Full length flesh colored low density 25 durometers EVA footbed.
Posting: The EVA foot bed is posted by the mill and ground from rear foot to fore foot.
Top and bottom covers: The top cover is a laminated combination of 2mm poron and 4mm of plastazote. This is the ideal combination for shock absorption and displacement of shear forces un the foot which helps to prevent ulcers for the diabetic patient. The bottom cover is brown suede.